DPF Solutions
One Stop Solution For All DPF Problems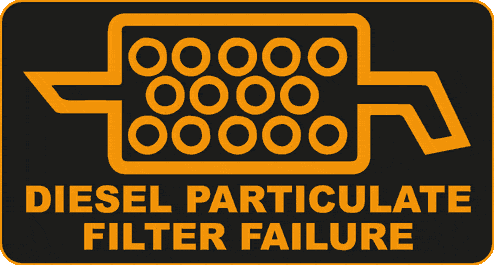 PROBLEMS ENCOUNTERED WITH DPF
If regeneration doesn't function properly it leads to a build-up of soot affecting performance and fuel economy, left unattended this will result in a Blocked DPF which can ultimately cause very expensive damage to other engine components. A blocked DPF is also potentially dangerous as it can cause overheating in the exhaust system and cause a fire risk. To prevent this damage most new vehicles will go into "Limp Home" safety mode at this stage, meaning the vehicle will have minimum power barely sufficient to crawl home.
For regeneration to take place it requires the vehicle to be driven regularly at some speed on open roads e.g. motorway driving, typically driving at around 2500 RPM for approx. 15-30mins at least once a month, this will keep things working.
Many diesel vehicles are used primarily for short journeys, rarely getting up to the full operating temperature that a regen needs; and over time a DPF will suffer from an accumulation of ash residue whether it has been correctly regenerating or not. For this reason, a DPF is classed as a serviceable item by vehicle manufacturers, not covered under warranty. DPF systems therefore require proper maintenance.
Even if the regeneration functions as it should, over time the ash residue will build up in the DPF and have the same affect ultimately resulting in a blocked DPF. For this reason a DPF is classified as a Serviceable Item by the vehicle manufacturers like brake pads or air filters etc and not covered under warranty. DPF systems therefore need to be maintained properly.
DPF SOLUTION
We can arrange to have your DPF removed at a local garage, and the DPF sent off to a facility using the latest state-of-the-art cleaning technology, safely and legally removing virtually ALL the soot and ash, restoring your DPF to work as good-as-new. Cleaning is a virtually 100% effective solution and at a fraction of the cost of a dealer replacement DPF.
However you will be without your vehicle for 3-4 days, but it will be considerably more cost effective than a replacement DPF.
By the time your light comes on the filter is blocked, options such as forced regeneration or using chemical additives will only remove the soot, not the ash.  This will, at best, be only be a short-term solution and a potential waste of time and money.
DPF RECALIBRATION – If you have had your DPF core removed, we may be able to recalibrate your vehicle's ECU to stop your engine going into limp-home mode, and to clear the DPF warning light, this is to give you opportunity to replace your DPF and we will not get involved in activities such as removal, or tampering of the DPF due to the legal implications, the law is very clear in that It is the driver who is responsible for ensuring compliance.
DPF removal is illegal in the UK for road use, if in any doubt please click HERE for advice..
Car & Van Engine ECU Remapping Covering the Following Towns and Surrounding Areas – Ashford | Broadstairs | Canterbury | Chatham | Dartford | Faversham | Folkestone | Hastings |Herne | Hythe | Gillingham | Deal | Dover | Faversham | Kent | Rainham | Rochester | Maidstone | Margate | Medway | Rye | Sheerness | Sheppey | Sittingbourne | Tunbridge | Whitstable